Landing Page Copying: Share Your Success With Your Audience
Do you have an envy-worthy landing page design others love? Want to share it with other small businesses to help them get up and running as quickly as possible?
Or, do you want to become the trusted expert in your industry, willing to hand over secrets to help others grow their own businesses?
With AWeber, you can.
Introducing AWeber's new Landing Page Copy feature! With the simple click of a button, you can share your best performing landing pages with your audience.
Why you should make your landing pages shareable
Shareable landing pages can save you (and your audience) valuable time and money.
You may want to make your landing page shareable if…
You want to establish yourself as an expert in your industry by sharing successful landing page designs with others.
You're an AWeber Advocate looking to create a starter template for your specific program. Your goal is to get your audience set up on AWeber as quickly as possible.
You want to grow your audience by creating and sharing a landing page starter pack.
Plus, creating a shareable landing page is barely any additional work on your end. See how simple it can be in the GIF below.
Make your landing page shareable today
In 3 easy steps, you can get started with sharing your landing pages.

1. After creating your landing page you'll find a 'Page Sharing' toggle under your Page Settings.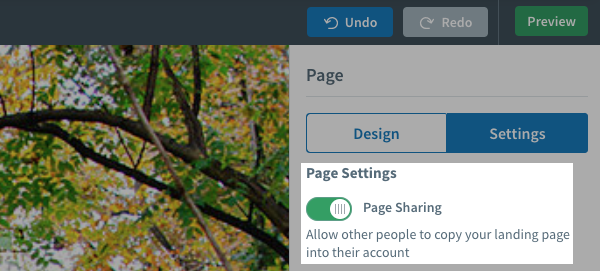 2. Enabling this toggle places a clickable hyperlink at the very bottom of your landing page.


3. When clicked, a new tab will open with the copied landing page loaded as a template for those who are already logged into their account. For those who are not logged in, they will be presented with an opportunity to do so.
If you need support, our help article can help you on your way to duplicating landing pages in no time.
Want to learn more about landing pages?
Landing pages are an incredibly valuable tool to grow your audience and build deeper connections. Whether you're selling digital products on your landing page, or simply setting up an online presence for your business, landing pages can help you accomplish your goals.
Learn 10 of the best ways to use landing pages in your business.