How Email Marketing and Patreon are Keeping the Lights on for Entertainers
Danika Holmes and her husband Jeb Hart are in an acoustic/pop/soul duo, Danika & the Jeb. Because of COVID-19, their spring tour and summer shows have been cancelled.
As Holmes explains, "The first time a cancellation came for a show, it was a bummer. The second time it was an inconvenience. And the third-through-30th time, it was a crisis."
Danika & the Jeb have been making their living as touring musicians for 10 years, and getting a regular day job is not an option for them.
So they adjusted their business model — the show must go online!
But they moved more than their shows online. Danika & the Jeb moved every part of their business online, including their entire merchandise store.
And, going online allowed them to connect more intimately with their audience, in unexpected ways.
Email marketing and Patreon — a winning combination.
To make it easy for their audience to access their new music and offer support, Danika & Jeb used the membership platform Patreon. Patreon allows creators to get paid for the content they create, including video, songs, webcomics, audio performances, and more. Fans support creators and artists by paying either a few dollars per month or per post.
Danika & the Jeb, release their content on Patreon for as low as a $1 per video or song donation. They get paid every time they release something new, and their supports become bonafide, real-life patrons of the arts!
"We make music. We share music. We make videos. We share videos. Pretty simple. Our Patrons are literally helping us keep the lights on and the music playing," says Holmes.
Email is the lifeline that connects with their audience.
Using email marketing, Danika & the Jeb send their audience updates on their music and behind-the-scenes life. "AWeber and email became our number one and best way to keep in touch with our audience," says Holmes.
Email helps them explain what patrons can expect since this new online reality is new to both creators and audiences.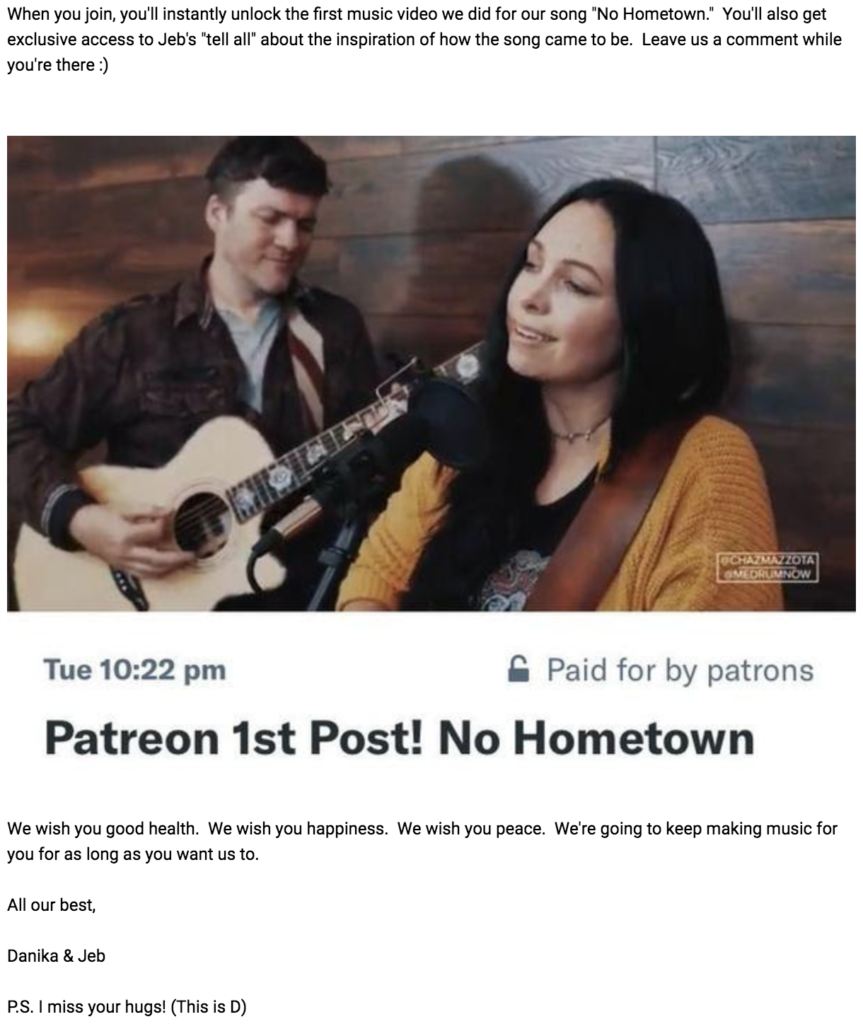 Email helps them promote more than music.
Danika & the Jeb moved their entire business online: apparel sales, an online guitar course, and custom guitar jewelry made from strings from an actual performance. They use AWeber to introduce their audience to these unique offerings to drive revenue.
Tools to pivot quickly.
Danika & the Jeb needed tools that were simple and quick to use so they could start generating income quickly. "We launched our Patreon quickly, within the first week after this happened," says Holmes.
They decided to go with a donation 'pay what you can' model. Everyone gets the same access no matter their donation level. Danika & the Jeb recognized that they were not only ones who lost income. "We didn't want people who need music in their lives to feel like they couldn't afford our music," says Holmes.
Re-engaging sleepy subscribers.
Though Danika & the Jeb have been with AWeber for over ten years, they reevaluated their email strategy by reengaging with subscribers who hadn't opened any of their emails in a while.
They launched a re-engagement campaign to those who had not opened an email in the past 6 months to better understand who their truly interested contacts were. Some of the people they contacted reached out and asked them to use a different email address.
Related: How to Create a Re-engagement Campaign
"The overall percentage of those inactive subscribers that become active was low. But the quality of the subscribers who re-engaged with us was high," says Holmes.
Here is one of the re-engagement emails that Danika and the Jeb sent out.
Related: What to write in re-engagement emails.
Using the complete toolbox.
Danika & the Jeb wanted to make it more obvious how to sign up for Patreon. So they used AWeber's drag-and-drop email builder and split testing capabilities to optimize their email marketing.
Related: 6 Email Split Tests You Can Set Up in 1 Minute
They found adding a button and testing button colors made a huge difference in their engagement.
First impressions matter.
Danika & the Jeb love AWeber's automated email campaigns. As soon as a new person joins their list, they immediately get an email thanking them for signing up.
The email includes easy ways for the new audience member to connect and engage with them, including:
Social links
Patreon link
Online store link
Their dog's Instagram account.
"I love the autoresponder feature. It is easy to set up. You don't have to be an expert," says Holmes.
Connecting with people in new ways.
Danika & the Jeb are musicians first. But they also love data. AWeber's analytics and reporting features help them to understand their audience better and what content they prefer.
"I love going to the broadcast page and seeing how many people have opened each email. It helps me learn what subject lines work and what ones don't," says Holmes
Unlike social media, AWeber lets Danika & the Jeb know when people are viewing their emails.
Creating a multicultural community.
The online shows built a multicultural community of core supporters that never existed before. Previously, people came together from a specific geographic location to see Danika & the Jeb's in-person shows. Now, people from South America, Europe, New Mexico, Florida, Ohio, and all over the world can listen.
"There's no other scenario where all of those people would have been together at once. They all chat with each other. It's creating a multicultural experience for us, too," says Holmes.
Audience members' pets need music, too.
Danika & the Jeb love to receive photos of people's pets watching their online shows.
Holmes even highlighted some of her favorite ones in a recent email mentioning that her audience is getting "fluffier."
Sharing the intimate side of the songwriting process.
For the first time in their lives, Danika & the Jeb are sharing their songwriting process, from start to finish They want their patrons to experience more than just watching a song performed online.
"It's a deep dive into the creative process behind the song. Some of the content is exclusive only to Patreon members. Other content, Patreon users will see first, and then a month later we release to everyone on our AWeber email list," says Holmes.
The AWeber difference.
Danika & the Jeb have been with AWeber for over 10-years. Email has always been an important element in building relationships with their audience.
But Danika & the Jeb are musicians, not email experts. If they ever have a question, they reach out to the AWeber Customer Solutions team.
"Holy cow. You guys have the greatest customer service ever. They're so patient. Nobody's ever treated me poorly or made me feel bad about not knowing certain things. I love that I can get an actual human. That's amazing," says Holmes.
Connect with your audience and start growing your email list today!
In your AWeber account, you'll get everything you need to grow your own business online — including sign up forms, newsletters, landing pages, and access to our award-winning customer solutions team.