See how this author grew his Amazon sales using email marketing in AWeber
Eric R. Asher is a former bookseller and cellist living in Saint Louis, Missouri. When he is not writing, you can usually find him reading, gaming, or buried beneath a small avalanche of Transformers toys. He is a successful author who self-publishes on Amazon.
But that was not always the case. Eric had to navigate through the world of publishing to learn that writing the book is only the first step. 
Successful authors today need to cultivate an audience to sell books. Having the right tools to create an authentic connection with your audience can make all the difference.
Eric's problem – An "unpublishable" book
Eric's career hit a crossroads when his agent told him one of his books was unpublishable.
"I told my agent, 'I'm pretty sure you're wrong. I'm going to take the rights back and do it myself.' And it ended up being one of my most successful projects."
Eric decided to self-publish on Amazon. The royalties he could make — with no publisher taking a cut — made it an enticing channel for him.
But as attractive as selling on Amazon was, just having a book on Amazon didn't mean Eric would make enough sales for the book to be successful. Amazon is a platform, not a sales strategy. Authors need to create their own demand. They need to build an audience.
Eric's solution? Build an audience with email marketing
The solution to Eric's problem was email marketing. Email guarantees that he had a built-in audience of people who know, like, and trust him, no matter the publishing outlet. It also gave him the ability to walk away from a publisher because he had an audience — and a direct line of communication with them.
Email allows Eric to continue building relationships with people who are interested in his work even after they finish reading one of his books.
No other service — not even social media — is as personal, powerful, and cost-effective. Email marketing is still 40 times more effective at acquiring customers than Twitter and Facebook combined.
"I have friends who sell more books than I do, but because they're publishing in the traditional manner, many are earning less (due to the royalties)."
Why he chose AWeber
Not all email service providers are the same. AWeber's positive reputation for delivering messages to subscribers' inboxes — and avoiding the spam folder — was one of the main reasons Eric became an AWeber customer.
"My author friends have had nightmares with other platforms that had deliverability issues. One even lost an entire mailing list on another platform."
How Eric grows his email list using AWeber
One of the easiest ways to start building an email list is to create a compelling opt-in gift (aka a "freebie" or a "lead magnet") for your new subscribers.
Eric offers his gift in the form of a free novella book, "Whispers of War." Visitors receive a pdf book through a link delivered in an automated email after they submit their email address.
While not everyone is going to sign up for your free gift, the ones who do are more likely to purchase future books. Build the relationship early by sending them a welcome email campaign immediately to keep them engaged.
How Eric sets up an automated email in AWeber
How Eric builds excitement with his audience
After someone enters their email address in a sign-up form, Eric sends them a series of emails with samples of his writing so they can get to know his work. The first email has a link to download a free urban fantasy novella.
The second email in the series includes another free content download that introduces readers to his other genre, Steampunk.
When someone clicks on a link in a newsletter, that user is tagged based on their interest.
"For retargeting, tagging is priceless. If somebody clicks on a link, then the next time I have a new book in that series, I make sure they get a notification about something new coming out."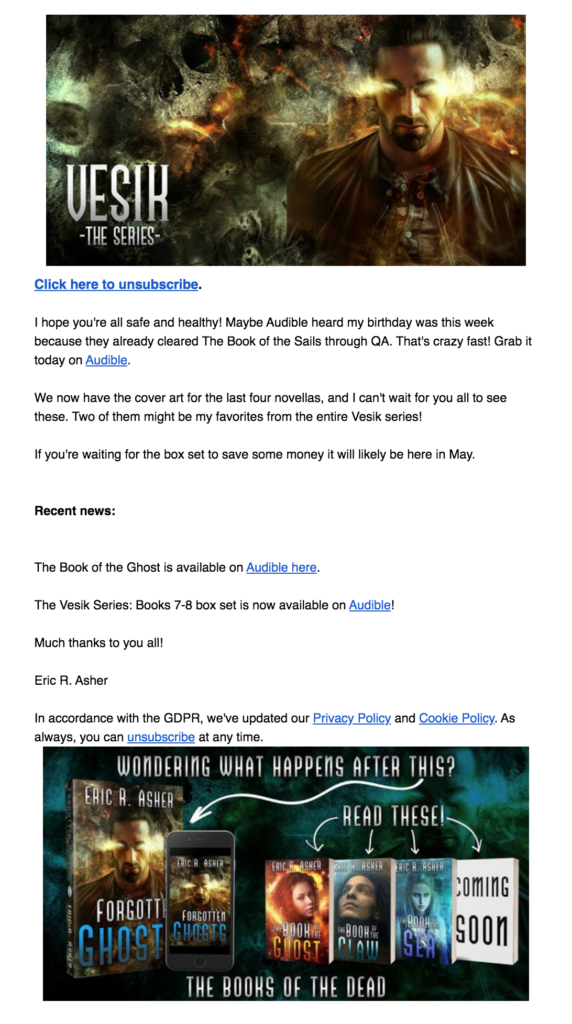 No matter how readers consume his books — whether through audio, ebook, or print — Eric keeps in touch with his audience through his newsletters.
And social media? Sure, Eric thinks it's valuable, but his newsletter is even more valuable. "I used to think that the newsletter was a nice supplement for social media. But over the years, social media's algorithms have changed. I think it's more important to have that newsletter as your core. I have found email pretty invaluable."
How Eric sets up subscriber tagging in AWeber
Build super fans through email
When it comes to launching a successful book on Amazon, having the right group of people advocating for your work is critical.
Eric's group of super fans help him expand his reach. They receive early copies of his books, and leave honest reviews on book distributor sites.
Reviews help convince browsers to buy. They're one of the most important drivers of book sales. They're the best social proof that your book is getting read, and people have an interest in the content. Amazon also takes notice of reviews in the ranking. Reviews can be used in other places besides Amazon, too. Eric repurposes his books' reviews in his newsletters, generating even more sales through email.
"One of the biggest things that I think a lot of authors don't do is ask for reviews. After sending subscribers a link to download engaging content, I send an email: 'Hey, my new book is out. If you have three minutes, please consider leaving me a review on Amazon.' Many authors don't realize how beneficial a review can be. Reviews are fantastic."
Eric keeps in touch with this group via email, which ultimately helps him create stronger relationships with them.
Want to get the same results that Eric got from his email marketing?
AWeber has all the tools and support you need to grow your business or your side hustle. Get started now.