20 Exceptional ways to increase your sales on Etsy like a power seller
If you've ever wondered how top Etsy sellers like CaitlynMinimalist or TwistStationery stand out and excel in a very competitive Etsy marketplace, it ranges from mastering keywords to crafting compelling product descriptions.
Increasing your sales on Etsy takes more than hitting publish on your products. You need to structure your products in a way that makes them stand out from those other Etsy sellers trying to sell their products and establish themselves as a reliable brand.
To establish the kind of consistency that top sellers reach, you also need to start building and engaging with everyone who buys your products. It's no secret that this audience is more likely to buy from you again.
Here are the top 20 ways to increase your sales on Etsy:
Listing details
This is the heart of your Etsy product story. From the attention-grabbing title to the story-telling description, and the images that make it irresistible, every element plays a pivotal role in boosting your shop's sales.
1 – Include the main keyword in the product title 🔑
Picture this: a shopper on Etsy is hunting for that perfect handmade gem. What's their first move? They type what they're looking for in the search bar.
This is where the "main keyword" comes in. When you include it in your product title, you're saying, "My item is exactly what they need!" This means more visibility, clicks, and sales.
You can start by identifying the main keyword that fits your product – think like your customer. Then, blend it naturally into your title.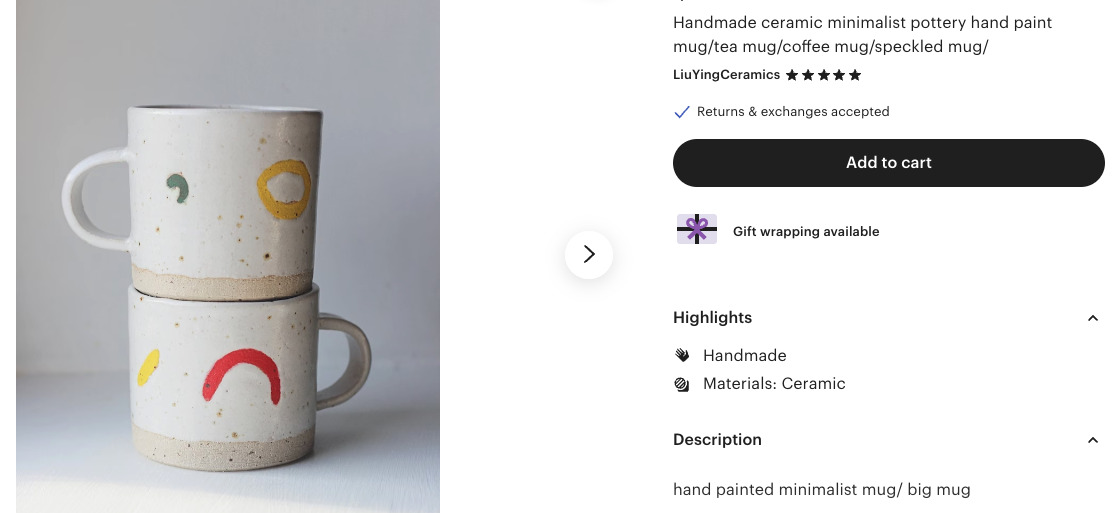 2 – Write persuasive product descriptions
Your product description is your direct line to potential buyers. Emphasize what makes your item special – is it handcrafted, eco-friendly, or utterly unique? Show them why they can't live without it.
Paint a vivid picture with words, giving them a taste of how your creation fits into their world.
Keep it snappy but informative, allowing shoppers to see the value in an instant. These descriptions aren't just text – they're your sales pitch, your product's story. So, let your words shine.
3 – Take eye-catching product images 👁️
Ever wondered how to make Etsy shoppers stop scrolling and start clicking?
The answer: jaw-dropping product images. These snapshots are your product's first impression. They act like a visual magnets, pulling in potential buyers with a single glance.
So when capturing your product images, take them from different angles, make sure the setting is well lit, and against a clean background. Show off its details and textures – let your pictures do the talking.
4 – Add impactful product videos 🎥
Adding a video is a great way to bring your products to life.
Show how your item moves, functions, or fits into a potential customer's daily life.
Keep it snappy, show off key features, and watch your product sales come alive in a whole new way!
5 – Focus on Etsy SEO 🔍
Etsy success isn't just about beautiful products – it's about being found. That's where Etsy SEO steps in. Don't fret, it's not as technical as it sounds. This is your ticket to getting discovered by the right audience.
Etsy SEO is like a map that guides shoppers to your shop. It's all about using relevant keywords – the same ones buyers type into the search bar – in your titles, tags, and descriptions.
Think like a customer, anticipate their search terms, and let Etsy's algorithm work its magic. Get this right, and your products will be front and center for the world to see!
Related: Etsy SEO: How to rank higher and increase your store's revenue
Reputation and excellence
Start giving potential customers a reason to purchase from your Etsy shop.
6 – Become an Etsy Star Seller 🌟
This badge of honor is earned through exceptional customer service, quality products, and consistent sales.
Etsy Star Sellers give potential buyers a level of trust and confidence in your shop.
According to Etsy, to become a Star Seller, you need to achieve the following over a rolling three month period:
Reply to all first messages of a thread within 24 hours
Have a review score of 4.8 or higher
Ship orders within the processing time you list AND include a tracking or purchase shipping label on Etsy
Make a minimum of 5 sales worth at least $300
Once you have become an Etsy Star Seller, consistency is key.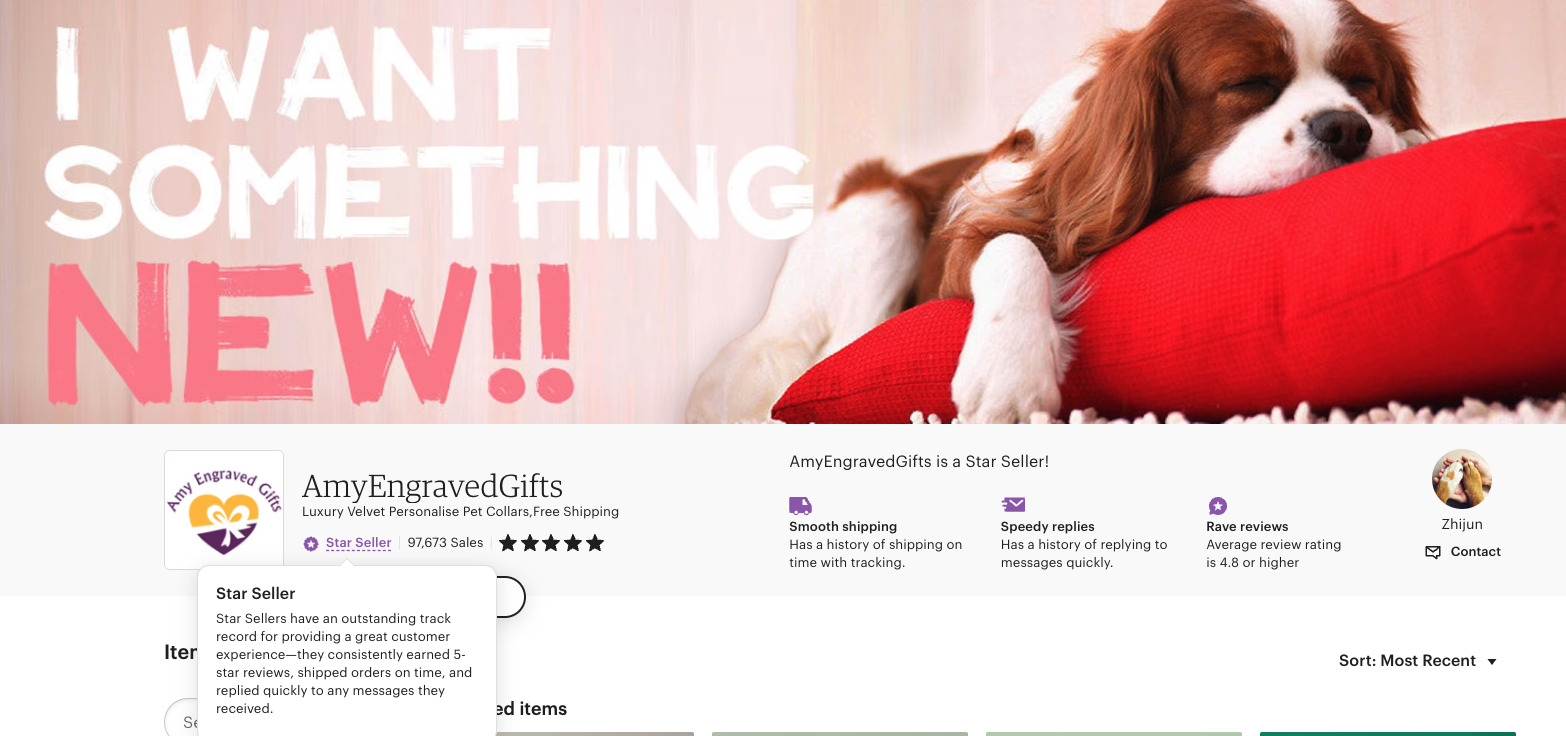 So reach for the stars.
7 – Be active on social media platforms
Ready to give your Etsy shop a social boost? Social media platforms are your secret weapon.
These digital hangouts aren't just for sharing memes – they're a powerful way to connect with your audience and expand your reach.
The key is to engage, don't just post. Share behind-the-scenes glimpses, product teasers, and customer stories.
Find the platforms your target audience loves, whether it's Instagram, Pinterest, or TikTok. Consistency matters – keep your content fresh and relevant, and watch your Etsy community grow beyond your shop's virtual walls.
Loyal audience
8 – Capture email addresses 💌
Repeat customers are more likely to trust your product quality and style — it's time to get those customers to buy again. But how can you target customers who have already purchased from your Etsy store? Etsy doesn't make it easy to reach out to people who previously bought from you.
The answer is easy – it's email marketing.
With email you always have a direct line to your most interested buyers. That's what capturing email addresses can do for your Etsy business. It's not just about sending promotions – it's about building a loyal customer base.
Ensure you comply with Etsy privacy rules
Etsy rules state that you must allow customers to opt into your email list.
To do this, set up direct Etsy integration with an email service provider, like AWeber. This way, an opt-in email is automatically triggered after a purchase, building your contacts list.
Plus this ensures that you are in compliance with Etsy's privacy rules which states you can't contact your customers unless they opt-in first.
9 – Use email to grow your long-term success 📧
Email is the best way to let your customers know you have something new. Or if you just want to boost your Etsy sales.
Email can be used to regularly update your customers with engaging content, product launches, and exclusive offers and discounts.
By building a relationship with your customers through email, you're not just driving immediate sales; you're cultivating a community that'll stick around for the long haul.
Automatically send a new product
With AWeber, you can automatically have an email sent once you list a new product on your Etsy shop. This automation is a great way to increase your sales on Etsy, without adding additional work to your plate. You can just sit back and watch the orders pile in.
10 – Add high-quality/relevant product reviews
Trust and confidence are everything for a potential buyer, and that's exactly what high-quality product reviews bring to your Etsy shop. These reviews act as reassuring nods from previous customers, giving new shoppers the peace of mind they need to hit that "Add to Cart" button.
Encourage happy customers to leave reviews after their purchase. Showcase reviews that highlight the quality, uniqueness, and positive experiences others have had with your products.
New ways to boost Etsy sales
Increase the amount each customer spends on your store by actively encouraging a larger deal.
11 – Create bundled deals
Boost sales by combining complementary items into larger packages. You can offer a small discount that is offset by more efficient packing and shipping. People like to purchase when they know they are getting a better price—even if that means paying more money total.
12 – Offer cross-sells
If someone already purchased an item from you or has something in their cart, suggest products that work well with that item. You can provide product suggestions based on hot items, sales, low inventory, or prior activity.
13 – Upsell
When someone is looking at a specific item, always show the upgraded version as an option. This can include package deals or a larger product. Keep the more expensive option at the forefront of their mind, helping them reconsider a higher purchase.
Promote your product listings
Boost your Etsy sales with a little promotional push.
14 – Collaborate with influencers
Ever wondered how to tap into a wider audience without breaking a sweat? Enter the world of influencer collaborations. These partnerships are like a fast lane to reaching new eyes, expanding your Etsy business beyond your wildest dreams.
Identify influencers whose audience aligns with your target market. Reach out with a personalized pitch, offering them your product in exchange for an honest review or feature.
Their endorsement adds credibility and introduces your shop to a whole new set of potential buyers. It's a win-win that can take your Etsy success to new heights!
15 – Advertise on Etsy
Promotions
Running promotions is a fantastic way to generate interest and increase your Etsy sales.
16 – Use coupon codes ✨
This is where having an email address from your audience really pays off. You can create unique coupon codes for special occasions, loyal customers, or when you need an infusion of sales. And the best way to get that coupon code to your audience – that's right – email.
Whether it's a percentage off, a buy-one-get-one deal, or free shipping, coupon codes can be irresistible hooks that turn curious visitors into enthusiastic buyers.
17 – Run a special sale event 🛍️
Running a special sale event creates a sense of urgency and excitement that can really get the virtual cash registers ringing.
Choose a theme for your sale, whether it's a holiday, milestone, or just a creative twist.
Offer discounts, bundle deals, or exclusive products to entice buyers. Promote your event through your shop, social media, and email.
The buzz around your sale can drive traffic and sales, giving your Etsy shop the attention it deserves.
18 – Offer free shipping
Who likes to pay shipping? The answer is no one.
The proof is in the data. Did you know that 48% of online shoppers abandon their carts once they see the shipping costs.
Offering free shipping can result in more customers placing an order. And it can even increase your average order if you make it a qualifying factor by spending a certain dollar amount. The data supports this – 78% of consumers are willing to buy more to qualify for free shipping.
Other ways to increase Etsy sales
19 – Create a sense of urgency ⏳
Ever notice how a ticking clock can make us move faster? That's the magic of creating a sense of urgency in your Etsy shop. It's about lighting a fire under your potential buyers and encouraging them to take action right now.
Limited-time offers, countdown timers, and phrases like "while supplies last", "low in stock", or "only 2 left" are your go-to tools. They trigger the fear of missing out (FOMO), making buyers think twice about delaying their purchase.
Just remember to keep it genuine – don't overdo it. Balance urgency with authenticity.
20 – Launch new products 🚀
What's the surefire way to keep your Etsy shop buzzing with excitement? It's all about consistently launching new products. These additions don't just bring variety – they give your customers a reason to keep coming back for more.
Plan your launches strategically, considering trends, seasons, and your audience's preferences.
Tease the upcoming products on social media and through your email list to build anticipation.
Get the tools you need to succeed
You're on the path to grow your sales on Etsy. Remember, your journey doesn't end here. Keep nurturing your brand, building connections on social media, and exploring innovative avenues.
AWeber has the tools to help you grow your email list, nurture your customer relationships, and automatically send emails the moment you publish a new product.
And the best part – you can get started for free.