FOR IMMEDIATE RELEASE
AWeber Named a 2017 Finalist for Annual Stevie Awards
People's Choice Voting Open Now Until February 10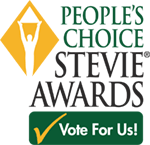 Chalfont, Pa. January 25, 2017 – AWeber has been named a finalist for the 2017 Stevie Awards for Sales & Customer Service, marking the second year in a row the email marketing service provider is recognized for excellence in customer service. The final results–wherein AWeber will find out if it is a gold, silver, or bronze winner–will be announced on February 24, 2017 in Las Vegas.
More than 2,300 nominations were submitted this year, a 10% increase from 2016. AWeber is a finalist for two categories: Customer Service Department of the Year and Innovation in Customer Service. The Customer Service Department of the Year nomination also qualifies AWeber as a People's Choice candidate. Now, until February 10, fans can vote AWeber as their favorite customer service provider.
"We're deeply honored to be in the running for these awards. It serves as affirmation that what we're doing is purposeful and has a real impact on customers," says Chris Henrich, AWeber's Director of Customer Solutions. "Being a finalist and potentially winning another Stevie is an achievement we're extremely proud of."
In the past year, AWeber demonstrated innovation in customer service with the launch of AWeber Email Marketing Community. This digital meeting place, made up of 2,500 members (and counting), was exclusively created for customers to connect with each other and AWeber team members.
The company's nomination for Customer Service Department of the Year focused on AWeber's number one passion: creating remarkable experiences. One customer–so impressed by the support he received–applauded AWeber's customer service via a video recording that was sent to the team, demonstrating that excellent customer service comes down to meaningful customer relationships.
AWeber is regularly recognized for customer service. In 2016 the company won a gold Stevie® for Contact Center of the Year and in 2015 was first runner-up for the National Customer Service Association's All-Star Service Team of the Year. Learn more at aweber.com.
About AWeber
Founded in 1998, AWeber is one of the world's leading email marketing providers, who helps more than 100,000 businesses, entrepreneurs and bloggers increase sales and profits through its suite of web-based email marketing software. For more information, visit aweber.com, subscribe to the AWeber blog, or follow on Twitter and Facebook.